The Mister HysterSisters Guide to Hysterectomy
Hints, helps and information for the hysterectomy patient's family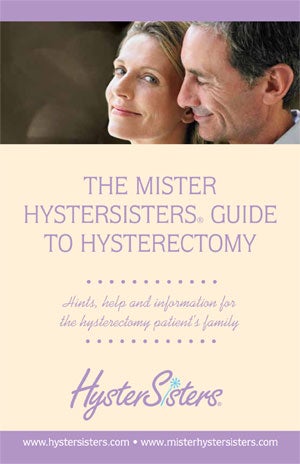 We've spent time since 1998 helping the women of HysterSisters with hysterectomy support and information. And, because we often receive email from the husbands, we knew it was important to write a book just for the family, the caretakers, of the hysterectomy patient.
We've compiled information based on your questions to take care of your favorite woman going through a hysterectomy. Helps. Hints. Great information. We hope you will be encouraged as you read through this book for the days ahead. Be of good cheer. Because the world is full of HysterSisters, and the world is full of Mister HysterSisters. You are not alone!
This 80 page, electronic book (ebook) is a downloadable file for easy access to read on your computer, for reading on your e-reader or to print it out to read later.
Published by HysterSisters, Inc, with renewed content in the fall of 2012, this book includes great information from the HysterSisters website. Inside this book you will find:
What is a hysterectomy? What kinds of hysterectomy?
Doctor appointments? Recovery room?
Taking time off from work? Present during surgery?
No libido? Normal sex? Vaginal dryness? Is her vagina shorter?
Helpful information to take care of your hysterectomy patient.
Suggestions to overcome recovery challenges.
Glossary to understand medical terminology from doctor's instructions and surgery report.
Letters from HysterSisters - How you can help.
...and more! All from HysterSisters.com!
"Mister HysterSisters Guide to Hysterectomy" - Available in these formats: